There is no doubt that we are all extremely saddened by the events in Ukraine and the devastating humanitarian impact. Our thoughts and prayers are with clients and their families who might be impacted by this tragedy. We thought it would be of value to provide some information regarding how the war in Ukraine might impact global markets, and the importance of staying connected with us, your financial adviser, to discuss any concerns that you might have in terms of your financial plan and investments.
Background
It is important to first recognise that the last 10 years have been uncharacteristically good for investors. This is due to the lowering of interest rates by global central banks to record low levels and massive liquidity support, from both governments and central banks. During this period, the US share market (S&P 500) has risen by 285% and the Australian share market (ASX 200) by 153%.
Growth of the US and Australian Share Markets in the last 10 years %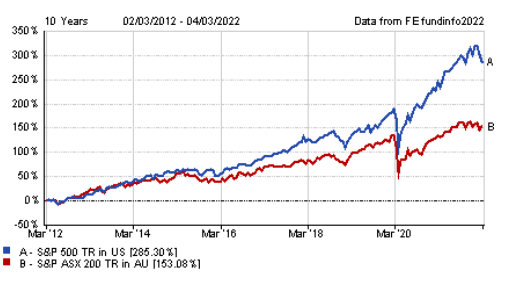 Further, the average balanced portfolio has increased by 97% in this period.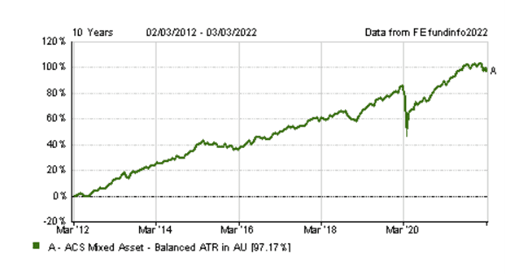 Consequently, financial markets entered 2022 with rich valuations in the face of numerous challenges including soaring inflation and tightening monetary policy in many countries. Under normal circumstances, at the end of a bull market, shares and long-term bonds, typically have lower and more variable returns, sometimes for extended periods.
However, what is far less forecastable are the geopolitical conflicts, with their inherently human nature, as we are currently witnessing between Russia and Ukraine.
As an investor, you have good reason to wonder about portfolio implications when the news flow and market behaviour is dominated by such geopolitical events. While these events have the potential to cause far-reaching outcomes for the global economy and financial markets, the uncertainty it causes and its effect on market sentiment result in spikes in volatility in financial markets, on a daily basis, that can be difficult to interpret.
Learning from the past
While each geopolitical conflict is unique, including this one, past events can teach us something about how markets respond to them. Even in the short two decades since the turn of the millennium, markets have faced 9/11, numerous military conflicts in the Middle East and Central Asia as well as instances of trade wars between the major powers.
Appendix 1 shows that over the last century geopolitical events have certainly led to notable share market sell-offs in the short term. Germany invading neighbouring countries at the onset of WWII or the Arab oil embargo stand out as particularly severe instances of this. However, when looking at the whole series of events in the table, the typical sell-off lasted about a month and markets had fully recovered all losses after another month and a half. There were of course exceptions to the rule. In some cases, it took years for markets to recover from the selloff, especially when key economic variables such as oil were impacted, as was the case in 1973.
History also shows however that in the majority of cases, financial events (such as inflation, interest rate rises, etc) have much more severe and longer-lasting impacts than geopolitical events.
Inflation is viewed by the financial markets as the biggest challenge investors face. What is clear is that the war in Ukraine has already resulted in a significant increase in inflationary pressures, especially in energy and commodities. This will slow economic growth at the very time when the economy was beginning to recover from COVID-19. Share makets will likely remain very volatile and the market will be hoping that global central banks remain cautious when increasing interest rates – which are necessary to keep inflation under control.
In terms of war in Ukraine we see three broad scenarios in terms of the impact on financial markets -Firstly, that the war is resolved relatively quickly; secondly that the war becomes dragged out over an extended period if Russia attempts to stage an occupation of Ukraine and lastly and worse case that the conflict escalates to involve NATO.
We believe that the market is currently pricing in a relatively quick resolution to the conflict. Should the conflict continue for an extended period, the sharemarket will become increasingly volatile. A wider conflict involving NATO is likely to result in a selloff in share markets and a longer time for recovery to occur.
Where to from here?
Our advice to investors is to not overreact to what is seen in the daily news cycle. History has shown us that sell-offs driven by geopolitics can be so short-lived that it is impossible to time them. The big risk of overreacting is that investors are likely to sell down their portfolio after markets have already discounted the event. We always recommend clients have a well-diversified portfolio appropriate to their risk profile and objectives. A diversified portfolio will dampen the impact of financial market fluctuations on the portfolio. Indeed as your adviser, we will be carefully watching both the economic and geopolitical situation and contact you if we believe your investments need to be changed.
If you are particularly concerned, please reach out to us to discuss or review your portfolio. We are always here to help.
The information contained in this article is general information only. It is not intended to be a recommendation, offer, advice or invitation to purchase, sell or otherwise deal in securities or other investments. Before making any decision in respect to a financial product, you should seek advice from an appropriately qualified professional. We believe that the information contained in this document is accurate. However, we are not specifically licensed to provide tax or legal advice and any information that may relate to you should be confirmed with your tax or legal adviser.